We toured the forge
Todd welcomed Ed Minch & his friend Stuart whose parents live nearby, Tom Price & Steve Reynolds, Bill (an accomplished woodworker setting up his own shop & who has quit his day job), and George Langford. Date: January 29, 2000.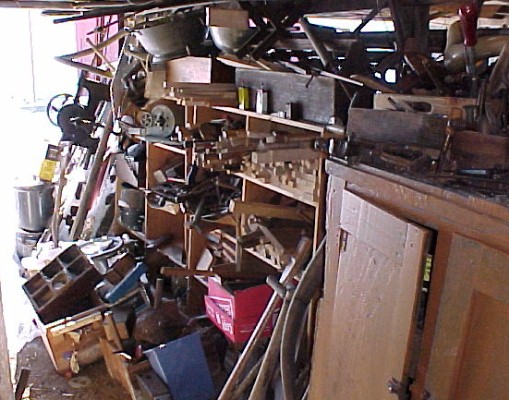 We looked over the neatly stacked tools & raw material in the back rooms of Todd's barn.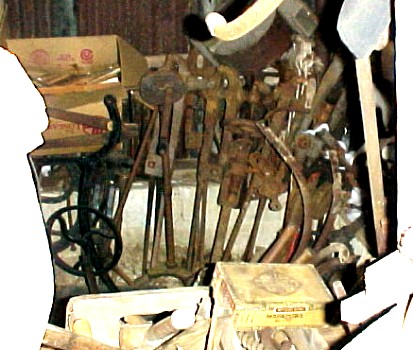 There were plenty of vises waiting to leg it outta there.




















And saws for those who've compared the cost of the OldTool variety to the cost of NewTools or merely the cost of sending the old ones out for sharpening.





















There's even a library.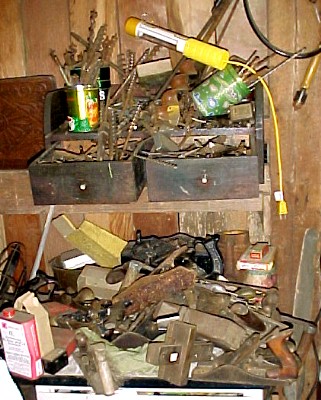 And quite a few planes poised at the brink ...





















But there is some semblance of order among the chaos.
























Into which George snuck his newly constructed, rabbet-mouthed No.4 scraper plane with tilting tote which uses a piece cut from an old hacksaw blade as the cutter.




















And Ed showed off his Secret Santa's Galoot caulking gun, with its lacewood handle, copper rivets, and Shaker-basket hoops. I'll bet that Ed cleans this verrry carefully after getting that tall ship shipshape ...